No one won the jackpot. Massive Mega Millions jackpot up for grabs Tuesday night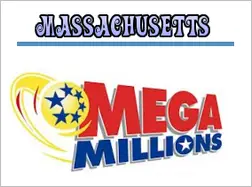 Updated: Saturday, December 3, 2022 01:45 AM
Massachusetts Mega Millions lottery News and Payout for Friday, December 2nd, 2022 Drawing
The jackpot in the multi-state Mega Millions drawing climbed to 354,000,000 for the Tuesday drawing. The cash option will be $186.9 million. No ticket sold for Friday's 333,000,000 drawing hit five white ball numbers plus the Mega Ball number. The winning numbers from Friday night, December 2nd, 2022 were 01, 21, 36, 46, 52 with Mega Ball 16 and Megaplier 3. Nobody won the Mega Millions grand prize in the past 952 draws since Friday, October 4th, 2013.A single lucky player from Maryland walked away with $189 million grand prize in Tuesday, October 1st, 2013 drawing.
Though the jackpot was not awarded Friday evening, Mega Millions had some big winners. 23 3rd prize winning tickets were sold across the U.S.. These included 23 tickets that matched 4 white numbers plus the Mega Ball and won $10,000.
Additional prizes won Friday night included 427 tickets that matched 4 lotto numbers and won $150. Other prizes won included 0 tickets that matched 3 white numbers together with Mega Ball and won $150.
With nine different ways to win, there were 1,803,556 winning tickets sold across the nation in the Friday, December 2nd, 2022 drawing.
Mega Millions is one of the most popular lottery games in the U.S. sold in 44 member states as a shared jackpot game. It holds the record biggest jackpot in U.S. lottery history. On average, 50% of the Mega Millions sales goes back to the players in prize winnings. Approximately 15% is used to as commission of retailers and lottery operating costs. About 35% total sales is used in government services, education and charities in the participating lottery states. Mega Millions drawings occur 2 times a week every Tuesday and Friday at 7:59 p.m. Pacific Time. Each play costs $1. In some states, players can choose to spend 1 extra dollar to purchase the Megaplier, which multiplies the winnings 2 to 5 times except grand prize. The overall chances of winning any prizes are about 1 to 14. The chances of matching 6 Mega Millions numbers are about 1 in 258 million. The minimum Mega Millions jackpot is $12 million. The annuity option is paid in 26 equal yearly installments. Winners may select one time lump-sum cash payout option instead.
Fri Dec 02, 2022 MEGA Millions Payout of U.S.
Numbers Matched
Prizes
# Winners
5 of 5 + Megaball
$333,000,000
0
5 of 5
$1,000,000
0
4 of 5 + Megaball
$10,000
23
4 of 5
$500
427
3 of 5 + Megaball
$200
0
3 of 5
$10
29,976
2 of 5 + Megaball
$10
25,363
1 of 5 + Megaball
$4
201,979
Megaball Only
$2
491,770
Fri Dec 02, 2022 MEGA Millions Payout of Massachusetts
Numbers Matched
Prizes
# Winners
More MEGA Millions Payouts
No one won the jackpot. Massive Mega Millions jackpot up for grabs Tuesday night


Saturday, December 3rd, 2022, 01:45 AM


The jackpot in the multi-state Mega Millions drawing climbed to 354,000,000 for the Tuesday drawing. The cash option will be ...... Read More »
The jackpot for Friday's Mega Millions drawing soars to 333,000,000


Wednesday, November 30th, 2022, 01:15 AM


The grand prize for Friday Mega Millions rolled up to 333,000,000 (lump-sum cash payout $172.3 million) after no player hit all 6 ...... Read More »
The jackpot for Tuesday's Mega Millions drawing skyrockets to 305,000,000


Saturday, November 26th, 2022, 12:50 AM


No player won Friday night's Mega Millions game drawing, worth 284,000,000, bringing the projected grand prize on Tuesday to ...... Read More »
Enormous Mega Millions jackpot up for grabs Friday night


Wednesday, November 23rd, 2022, 01:23 AM


The grand prize in the multi-state Mega Millions drawing built to 284,000,000 for the Friday drawing. The cash option will be ...... Read More »
Mega Millions jackpot goes to 259,000,000; 3 second prize tickets sold


Saturday, November 19th, 2022, 01:43 AM


The Mega Millions game jackpot increased since no player hit all 6 winning numbers from Friday night's 238,000,000 drawing. The ...... Read More »
The jackpot for Friday's Mega Millions drawing skyrockets to 238,000,000


Wednesday, November 16th, 2022, 12:35 AM


The grand prize for Friday Mega Millions lottery moved to 238,000,000 (cash option $119.1 million) after nobody matched all 6 ...... Read More »
The jackpot for Tuesday's Mega Millions drawing soars to 207,000,000


Saturday, November 12th, 2022, 12:46 AM


The jackpot in America's favorite Mega Millions lottery is on the move. Because nobody correctly hit all six numbers in Friday's ...... Read More »
Mega Millions jackpot jumps to 189,000,000; 4 tickets matched the first five numbers


Wednesday, November 9th, 2022, 12:44 AM


The jackpot in the Mega Millions multi-state lottery game has been increased to 189,000,000. The cash option stands at $91 ...... Read More »
Tuesday's Mega Millions jackpot builds to 154,000,000; 2 second prize tickets sold


Saturday, November 5th, 2022, 01:30 AM


With no winner in the latest drawing, the Mega Millions lottery jackpot will be worth 154,000,000 (cash value $74.7 million) the ...... Read More »
Mega Millions jackpot goes to 119,000,000 Friday, November 4th, 2022; Seven second prize tickets sold


Wednesday, November 2nd, 2022, 01:43 AM


With no winner in the last drawing, the Mega Millions lottery grand prize will be worth an estimated 119,000,000 (lump-sum cash ...... Read More »
Massachusetts MEGA Millions
SUN MON

TUE

WED THU

FRI

SAT


Next Draw: Tue Dec 6, 2022
354,000,000
Change: +21,000,000