Tuesday's Mega Millions jackpot breaks to 322,000,000; 2 second prize tickets sold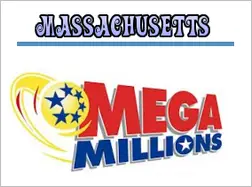 Updated: Saturday, March 25, 2023 01:11 AM
Massachusetts Mega Millions News and Payout for Friday, March 24th, 2023 Drawing
With no winner in the last drawing, the Mega Millions game jackpot is going to be worth a projected 322,000,000 (cash option $174.3 million) the next time the multistate lottery is drawn on Tuesday. The amount rolled over because no one hit all 5 lotto numbers plus the Mega Ball number to win the 302,000,000 grand prize Friday night. The winning numbers from Friday, March 24th, 2023 drawing were 14, 17, 33, 42, 66 and the Mega Ball was 15, Megaplier was 3.
While there was no jackpot winner Friday evening, some players still walked away with big money. There were 2 lucky winners correctly matched all 5 lotto numbers but missed Mega Ball number, which won the second prize. The 2 lucky ticket(s) purchased in CA,TX, each won $250,000 cash by matching all 5 white ball numbers.
In addition, 17 tickets matched 4 of the 5 lotto numbers, as well as the Mega Ball number. Those tickets are each worth $10,000. Additional prizes won Friday evening included 367 tickets that matched 4 white numbers and won $150. Other prizes won included 944 tickets that matched 3 white numbers together with Mega Ball and won $150.
With nine different prize tiers, there were a total of 1,540,916 winning tickets sold nationwide in the Friday, March 24th, 2023 drawing.
Mega Millions is a consortium involving 44 state lotteries. Each play costs $1. In some states, players can choose to pay $1 extra to purchase the Megaplier option, which multiplies the prizes 2 to 5 times except grand prize. The overall chances of winning are about 1 to 14. The odds of winning Mega Millions grand prize are 1 to 258,890,850. The minimum Mega Millions advertised grand prize is $12,000,000. Its annuity option is paid in 26 equal annual installments. Winners can choose one lump sum cash payout option instead.
Tue Mar 28, 2023 MEGA Millions Payout of U.S.
Numbers Matched
Prizes
# Winners
5 of 5 + Megaball
$322,000,000
0
5 of 5
$1,000,000
1
4 of 5 + Megaball
$10,000
17
4 of 5
$500
361
3 of 5 + Megaball
$200
965
3 of 5
$10
25,746
2 of 5 + Megaball
$10
21,471
1 of 5 + Megaball
$4
163,557
Megaball Only
$2
381,217
Tue Mar 28, 2023 MEGA Millions Payout of Massachusetts
Numbers Matched
Prizes
# Winners
More MEGA Millions Payouts
Tuesday's Mega Millions jackpot breaks to 322,000,000; 2 second prize tickets sold


Saturday, March 25th, 2023, 01:11 AM


With no winner in the last drawing, the Mega Millions game jackpot is going to be worth a projected 322,000,000 (cash option ...... Read More »
The jackpot for Friday's Mega Millions drawing soars to 302,000,000


Wednesday, March 22nd, 2023, 12:38 AM


The grand prize in America's favorite Mega Millions lottery is on the move. Since no player correctly hit all 5 white ball numbers ...... Read More »
Mega Millions jackpot rolls up to 272,000,000 Tuesday; 1 second prize ticket sold


Saturday, March 18th, 2023, 01:01 AM


Without a big winner in the last drawing, the Mega Millions multistate lottery game has rolled over its grand prize to 272,000,000 ...... Read More »
Friday's Mega Millions jackpot moves to 254,000,000; 3 second prize tickets sold


Wednesday, March 15th, 2023, 12:37 AM


The estimated jackpot for Tuesday night's drawing was 229,000,000. According to Mega Millions, no player matched every number and ...... Read More »
No one matched all 6 numbers. Mega Millions jackpot builds to 229,000,000 Tuesday, March 14th, 2023


Saturday, March 11th, 2023, 12:42 AM


The multi-state Mega Millions jackpot has moved to 229,000,000 dollars after there was no jackpot winner in Friday's drawing. The ...... Read More »
Friday's Mega Millions jackpot increases to 203,000,000; One second prize ticket sold


Wednesday, March 8th, 2023, 01:07 AM


There has been another roll-over in the jackpot for the multistate Mega Millions lottery - to 203,000,000. The cash value will be ...... Read More »
No one won the jackpot last night. Tuesday's Mega Millions jackpot leaps to 104,000,000


Saturday, February 18th, 2023, 01:02 AM


The Mega Millions lottery grand prize has jumped up to a projected 104,000,000 (cash option $53.1 million) for the next drawing in ...... Read More »
Tuesday's Mega Millions jackpot climbs to 67,000,000; One ticket matched the first 5 numbers


Saturday, February 11th, 2023, 01:09 AM


Tuesday's Mega Millions game grand prize jumped to 67,000,000, because nobody hit all 5 lotto numbers plus the Mega Ball number ...... Read More »
Mega Millions jackpot builds to 50,000,000 Friday night; Two players won the second prize


Wednesday, February 8th, 2023, 12:37 AM


The grand prize in America's favorite Mega Millions lottery is on the move. Since no one correctly hit all five lotto numbers and ...... Read More »
No jackpot winning ticket sold. Tuesday's Mega Millions jackpot rises to 31,000,000


Saturday, February 4th, 2023, 12:50 AM


The Mega Millions multi-state lottery grand prize moved to 31,000,000 (lump-sum cash payout $16.6 million) Tuesday night when ...... Read More »
Massachusetts MEGA Millions
SUN MON

TUE

WED THU

FRI

SAT


Next Draw: Fri Mar 31, 2023
$355,000,000
Change: +$33,000,000