A single winner from MA won 31,000,000 jackpot from the Mega Millions drawing Tuesday night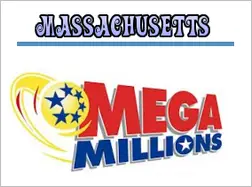 Updated: Wednesday, January 25, 2023 01:22 AM
MA Mega Millions lottery News and Payout for Tuesday, January 24th, 2023 Drawing
A single lucky ticket in MA matched all six numbers in the Tuesday, January 24th, 2023 drawing and won the 31,000,000 grand prize. The numbers from Tuesday, January 24th, 2023 drawing were 33-41-47-50-62 with Mega Ball number 20 and Megaplier X4. The winner will have the choice of 26 annuity payments with annual payment approximately of $1.19 million for the entire prize amount of 31,000,000, or the one-time cash payment in the amount of $16.5 million before tax withholding. The jackpot winner is encouraged to sign the ticket, put it in a secure place and get in touch with lottery officials as soon as possible. Jackpot winner has the opportunity to choose the cash value of the jackpot while claiming the prize. If the winner does not make choice, the payment option will revert to annuity by default.
Besides the grand prize hit on Tuesday, January 24th, 2023, more people walked away with huge pile of cash. There were 2 second prize winners from Tuesday night's drawing, matching the first five numbers except the Mega Ball number. The 2 second prize winning ticket(s) bought in FL,NJ will collect $250,000 cash each.
Other prizes won Tuesday night included 10 tickets that matched 4 white numbers in addition to the Mega Ball and won $10,000. Additional prizes won Tuesday night included 241 tickets that matched four white numbers and won $150. 670 tickets matched 3 of the 5 lotto numbers, as well as the Mega Ball number. These tickets are also each worth $150.
With nine prize levels, there were a total of 1,056,054 winning tickets sold across the nation in the Tuesday, January 24th, 2023 drawing.
The new Massachusetts Mega Millions lottery grand prize is estimated at 20,000,000 for Friday, January 27th, 2023. The cash option will be $10.5 million.
Mega Millions lottery is played in 43 states and Washington DC. It holds the record largest jackpot of $656 million in U.S. lottery history. Mega Millions drawings are held 2 times a week every Tuesday and Friday night at 7:59 PM Pacific Time. Mega Millions uses a 5/75 (white balls) + 1/46 (Mega Balls) system to randomly choose winning numbers. Each play costs $1. In some states, players can choose to pay 1 extra dollar to buy the Megaplier option, which multiplies the prizes 2 to 5 times except grand prize. The chances of winning are about 1 to 14. The chances of winning Mega Millions grand prize are 1 to 258,890,850. The minimum Mega Millions advertised jackpot is $12 million. The annuity option is paid in 26 equal yearly payments. Winners may choose one lump-sum cash payout option instead.
Tue Jan 24, 2023 MEGA Millions Payout of U.S.
Numbers Matched
Prizes
# Winners
5 of 5 + Megaball
$31,000,000
1
5 of 5
$1,000,000
2
FL,NJ

4 of 5 + Megaball
$10,000
10
4 of 5
$500
241
3 of 5 + Megaball
$200
670
3 of 5
$10
16,671
2 of 5 + Megaball
$10
14,065
1 of 5 + Megaball
$4
110,880
Megaball Only
$2
289,006
Tue Jan 24, 2023 MEGA Millions Payout of Massachusetts
Numbers Matched
Prizes
# Winners
More MEGA Millions Payouts
Tuesday's Mega Millions jackpot breaks to 322,000,000; 2 second prize tickets sold


Saturday, March 25th, 2023, 01:11 AM


With no winner in the last drawing, the Mega Millions game jackpot is going to be worth a projected 322,000,000 (cash option ...... Read More »
The jackpot for Friday's Mega Millions drawing soars to 302,000,000


Wednesday, March 22nd, 2023, 12:38 AM


The grand prize in America's favorite Mega Millions lottery is on the move. Since no player correctly hit all 5 white ball numbers ...... Read More »
Mega Millions jackpot rolls up to 272,000,000 Tuesday; 1 second prize ticket sold


Saturday, March 18th, 2023, 01:01 AM


Without a big winner in the last drawing, the Mega Millions multistate lottery game has rolled over its grand prize to 272,000,000 ...... Read More »
Friday's Mega Millions jackpot moves to 254,000,000; 3 second prize tickets sold


Wednesday, March 15th, 2023, 12:37 AM


The estimated jackpot for Tuesday night's drawing was 229,000,000. According to Mega Millions, no player matched every number and ...... Read More »
No one matched all 6 numbers. Mega Millions jackpot builds to 229,000,000 Tuesday, March 14th, 2023


Saturday, March 11th, 2023, 12:42 AM


The multi-state Mega Millions jackpot has moved to 229,000,000 dollars after there was no jackpot winner in Friday's drawing. The ...... Read More »
Friday's Mega Millions jackpot increases to 203,000,000; One second prize ticket sold


Wednesday, March 8th, 2023, 01:07 AM


There has been another roll-over in the jackpot for the multistate Mega Millions lottery - to 203,000,000. The cash value will be ...... Read More »
No one won the jackpot last night. Tuesday's Mega Millions jackpot leaps to 104,000,000


Saturday, February 18th, 2023, 01:02 AM


The Mega Millions lottery grand prize has jumped up to a projected 104,000,000 (cash option $53.1 million) for the next drawing in ...... Read More »
Tuesday's Mega Millions jackpot climbs to 67,000,000; One ticket matched the first 5 numbers


Saturday, February 11th, 2023, 01:09 AM


Tuesday's Mega Millions game grand prize jumped to 67,000,000, because nobody hit all 5 lotto numbers plus the Mega Ball number ...... Read More »
Mega Millions jackpot builds to 50,000,000 Friday night; Two players won the second prize


Wednesday, February 8th, 2023, 12:37 AM


The grand prize in America's favorite Mega Millions lottery is on the move. Since no one correctly hit all five lotto numbers and ...... Read More »
No jackpot winning ticket sold. Tuesday's Mega Millions jackpot rises to 31,000,000


Saturday, February 4th, 2023, 12:50 AM


The Mega Millions multi-state lottery grand prize moved to 31,000,000 (lump-sum cash payout $16.6 million) Tuesday night when ...... Read More »
Massachusetts MEGA Millions
SUN MON

TUE

WED THU

FRI

SAT


Next Draw: Fri Mar 31, 2023
$355,000,000
Change: +$33,000,000